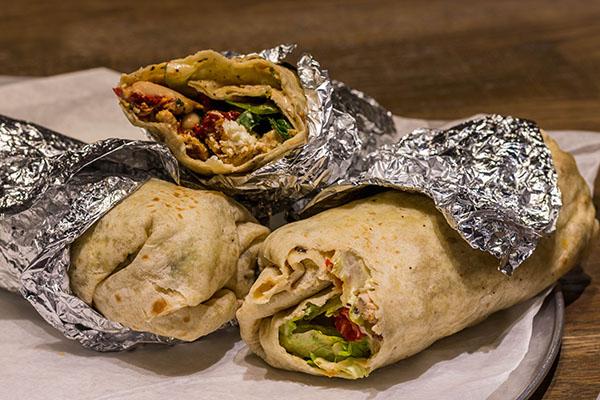 Pastas, tascas, piadas, oh my!
I'm going to be honest, I come here a lot. I am a huge fan of Piada, to the point where I figured it was worth it to drive there in a full-on blizzard. Granted, I don't live far away from it.
The easiest way to describe Piada is like an Italian Chipotle with a little Noodles and Company thrown in. It has a clean, modern look with wooden tables, Italian-themed photographs, and an assembly-style ordering area. There's a menu of specific pastas, salads, piadas (essentially Italian burritos) and tascas (Italian sandwiches) that you can order, or you can build your own. Due to my partiality for build-you-own options, I went for grilled chicken paid with spicy Tuscan sauce and a variety of veggies. Although I didn't get them this time, I can vouch for the deliciousness of both the garlic dough and cannoli chips–I'm sure the other sides are also awesome. The garlic dough is a piece of piada dough folded with garlic in the middle, and the cannoli chips are best described as cookies absolutely covered in powdered sugar with a cream-and-chocolate-chip dipping sauce.
On top of the casual, relaxing vibe and great food is the additional benefit of the low price-range. The majority of the menu is around the same price as a Chipotle burrito, making Piada well worth your money. It's on the Eden Prairie-Chanhassen border, making it a convenient stop after school or during an open hour.
Overall, if your dream was always to have an Italian version of Chipotle, or even if it wasn't, I would definitely recommend Piada. It's a simple, yet creative, take on Italian food with options for everyone.