Apple Dippers
These dippers are a delicious snack or dessert to share. They are especially fun in the fall with festive caramel apple taste. Have fun decorating each apple and tasting something new each slice!
Ingredients:
Sliced apples
Food skewers, or lollipop sticks, etc.
White & Milk chocolate chips
Caramel dipping
Mix chopped nuts
Sprinkles of choice
Coconut shavings, marshmallows, chocolate chips, crushed candies, oreos, etc.
*The ingredients vary depending on what you want to dip the apple slices in and sprinkle on top of them. There are a lot of variations for this recipe.
Steps:
Slice the apples with an apple cutter or with a knife into 8 pieces.
In a microwave safe bowl, melt the dipping of your choice until it is smooth and creamy.
Place a skewer in each apple slice.
Start dipping your apples in the chocolate or caramel, use a spoon to help cover the apple.
Place apples on parchment paper. Time to sprinkle on the toppings of your choice!
Transfer all of the apples to the fridge for 10 minutes to harden the toppings. Enjoy!
About the Contributor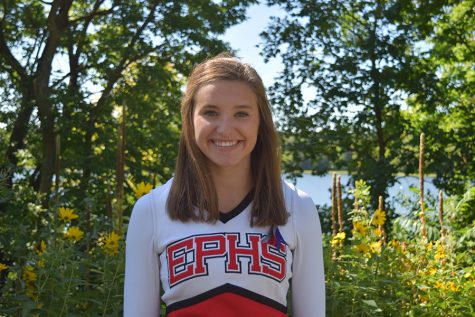 Elizabeth Buse, writer
My name is Elizabeth Buse. I am a senior staff member on the Eyrie. Also, I am on the Eden Prairie Dance Team. In my spare time, I spend time with friends...