Asking our student body
BY ELIZABETH BUSE
Last week I decided to tweet asking our students about their life. These questions were completely random. Anyone who follows the account could answer, but majority of our followers are students at EPHS. I asked questions about curfew, school dances, religion, and phones. It is interesting to look at these results to get more information about what students are up to.
The poll with the greatest replies, 94, was about curfew. 59% of students who answered said they have a curfew. Then, a follow up question was asked about the time. 52% of students answered their curfew to be 12pm. This is definitely something I find interesting because of the constant battle I have with my parents about curfew. I guess it turns out I am in the middle 52% percent.
A poll was asked about how many students attend the school dances at EPHS. 90 people answered on the poll with 57% of them saying they do attend the dances. In the past, we have struggled with the number of students attending dances. They even cancelled the dance this year because of it. But it ended up happening anyway.
Something that I find interesting is the abundance of students who have Apple Iphones. Out of the 37 votes, 95% said they do have an Iphone. This is definitely something I have noticed that is common outside of High School too. Apple must be doing something right.
Make sure to stay updated on our twitter page for more news and polls. Also, look below for the results on the polls or go on the twitter profile.
About the Contributor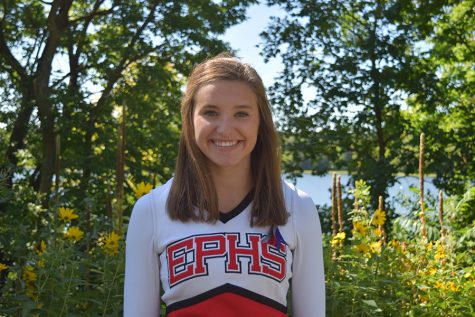 Elizabeth Buse, writer
My name is Elizabeth Buse. I am a senior staff member on the Eyrie. Also, I am on the Eden Prairie Dance Team. In my spare time, I spend time with friends...