Eagle of the Week: Zharia Hobbs
Junior Zharia Hobbs's PSA to adults: She is not too young to protest injustice.
"I hate when people say 'you're too young,'" Hobbs says. "Because it's like, you older people aren't doing anything but sitting back and looking at it." After protests rose across the country following the killing of George Floyd, Hobbs saw the need for students to rally around the cause. Inspired by rallies at other schools, she and other students organized a protest at EPHS in June.
"You can't just view it as a statistic," says Hobbs. "These are real people that had real emotions and dreams and aspirations in life. So this stuff matters, regardless or not if you want to speak about it; these are real people." 
What Hobbs finds most inspiring about protests? "The collectiveness," she says. "We can all come together to fight the same fight and want the same things." She was surprised, in a good way, with how people came to the rally over the summer. Students filled the streets near the high school, marching while chanting and holding signs. They also gathered supplies to provide mutual aid to affected communities.
Hobbs sees events like this as empowering, showing students that "our voice matters and we can do something about it." They're also educating. For the protest, she printed out antiracist resource handouts for attendees. Plus, protests give "everyone a space to say what's going on" and for atendees to learn by listening.
Learning is a crucial step to change. When she was younger, Hobbs didn't see herself getting as involved. "I was kind of in my own bubble," she recalls, although she remembers teachers always seeing a "leadership quality" and encouraging her. The shift started after she attended a social justice program in middle school and took the class Intro To Social Justice her freshman year. In that class, they had regular discussions about inclusivity and equity, and Hobbs worked on a project about the achievement gap.  
"When you open your eyes, you start to care more in my opinion. It might not be the same for everyone, but the more I learn about things, the more I care, regardless or not if it affects me."
In June, Hobbs also attended a couple of protests outside of her own, and since then, Hobbs has also helped organize the school walkout in solitary for Daunte Wright and racial justice this past April. Although Hobbs isn't exactly sure what her future will look like–she's currently exploring interests in social sciences, especially psychology– she sees herself continuing to grow more involved with social justice and organize similar protests in the future. "I know injustices will keep happening," she says.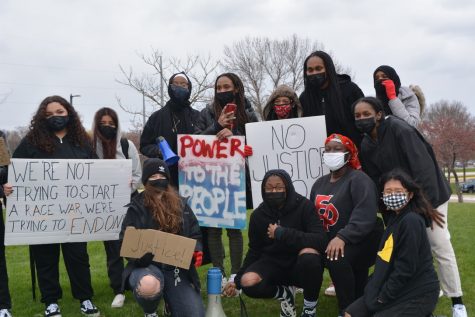 She tries not to compare her work in social justice to others, trusting that she will find more opportunities to get involved as she grows. Outside of school and social justice, Hobbs occasionally takes breaks from social media and news to "regroup." She enjoys hanging out with friends but also considers herself "kind of anti-social–I enjoy my own space." Painting is one of her pastimes–her favorite artwork style is cartoons. She calls her family her biggest support in life.
Regardless of whatever level of involvement people can have the resources to commit to, she urges people to continue to have empathy: "People can't let it fade. In my opinion people kind of treat it as a trend. It's like, all this uprising, all this rioting, and then it dies down, and the people tend not to care." No matter how old she gets, Hobbs doesn't plan on sitting back in the fight for justice.