International exchange students return to EPHS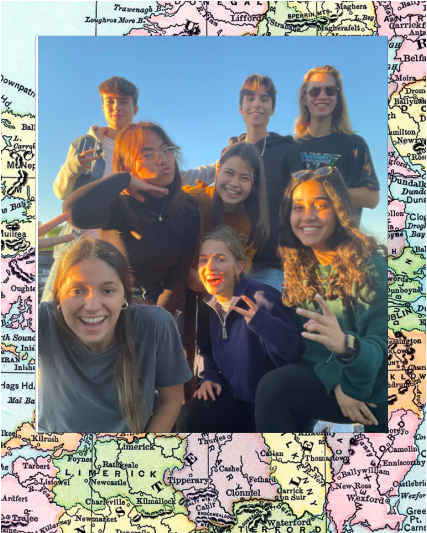 With a new school year underway, exchange students from Germany, Spain, France, Chile, and all over the world have once again graced the halls of EPHS.
The International students all share similar reasons for joining the exchange program: they wanted to experience a new culture and meet new people. 
Èlia Cortés Solé, a sophomore from Spain, signed up to create meaningful experiences. "I wanted to improve my English," she added. 
Yunus Yerlikaya, a freshman from Germany, heard about the exchange program through his teachers. "I did some research and wanted to have the same experience I saw other people having," Yerlikaya said. 
In the short time they have been here, some International students already have a favorite thing about EPHS. 
For Hugo Soriano, a sophomore from Spain, his favorite thing about EPHS are the teachers. "They are so nice," he said. He also liked how the school offered a ton of options and opportunities, like the wide arrange of subjects and classes. 
The move to a new country didn't come without its changes. Each international student expressed major differences between their school back home and EPHS. They're adjusting to unfamiliar class schedules, class sizes, homework, lunch, and daily life. 
Mathilde Geslin, a senior from France, noted the differences she noticed between school here and back home. "We have bigger days and we end school at six," she said. Her long school days back home consisted of two hour lunches and different classes every day. 
"It's very different," said Monse San Martin, a senior from Chile. Her school in Chile is this one school building that contains grades K-12. Students at that school stay in one classroom for the remainder of the year until the following year.
The international students shared similar struggles when it came to navigating life at EPHS, such as communicating with peers and making new friends. 
Geslin mentioned how "understanding when the teachers talk fast," is one thing she has been struggling with. The size of the school and different students in every class is a new experience for others, too. 
The international students are already making fond memories. For Ella Piepenburg, a junior from Germany, it's "the moments I've shared with the people I've met."
Similar for Cortés Solé, it is the fellow exchange students she has become friends with. Other students mentioned their arrival in Minnesota and their first few days in a new country. It's safe to say that the international students will remember this year for the rest of their lives. 
Fortunately, each host family has helped their international student through the transition, and the students had nothing but great things to say about them.
The host families are different in size and members. Some have kids, pets, and other exchange students residing with them. Piepenburg is living with her host mother's pet dog and another international student, both entirely new experiences for her. What all the families have in common is their dedication to making sure the international students have a memorable experience in the U.S.
Another big help in assisting the international students is the International Exchange Students Club led by seniors Juliana Jemina and Mariam Omar. The club meets twice a month and has Megan Gasco as the staff advisor. The club also does fun activities outside of school like ice skating and swimming. The purpose of these outings is so the students can see different places in Minnesota. 
"The club is sort of like a friends group and hopefully we can all stay in touch once they leave," Omar said.