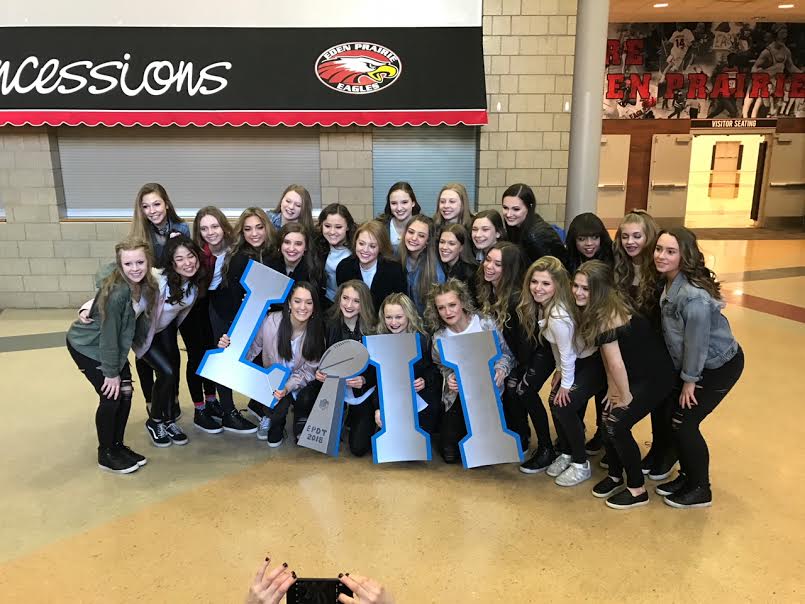 EP Students Display Talents at Super Bowl
Justin Timberlake and Idina Menzel don't run the entire show.  Hundreds of people performed in the Super Bowl and the days leading up to it.  Students from Eden Prairie High School were among those performers.
For one, the Eden Prairie Dance Team played a supporting role in Justin Timberlake's Super Bowl Halftime Show.  Along with multiple other dance teams across the Minneapolis-St. Paul area, the EPDT made up the crowd that surrounded Timberlake and even held up the reflective mirrors near the end of the show.  The collaboration between Timberlake and the local dance teams was established and rehearsed beginning in December, and participating members were obliged to not reveal their involvement to others.
Eagle Band also had an opportunity to play during the Super Bowl Experience.  Band members performed in uniform the Wednesday before the Super Bowl.   Students played pep band songs for about forty minutes.  Senior Mitchell Cave was once EPHS student who partook in the event.  "It was a really cool experience overall," Cave said.  "It was fun to know that we at least played a small part in the super bowl activities, and I'm glad that I was able to [be a part of] the Super Bowl Experience."
Similarly, Eden Prairie's Drumline also played for the Experience but did so on the day of the game instead.  "We went and performed for sets of around ten minutes outside the mall," Drumline member Minwoo Kim said.  "One person really enjoyed our performance and started waiting for the next time we'd perform.  It was really cold, but it was a really cool experience to be able to represent the school and contribute to the super bowl festivities."
In all, over one hundred EPHS students participated in Super Bowl Week performances.