Fly into the Perch
If you were familiar with the old business center, you may have noticed that there is something different about it this year. It has been transformed into a bank dubbed "The Perch" which is being run by Royal Credit Union employee, Olivia McCarthy, she was sent from the company to work as the school financial supervisor at the EPHS branch.
The Perch is managed by 10 EPHS Seniors in the business-marketing internship program. These seniors were interviewed last spring and have since taken roles as bank tellers and marketing interns. Senior Sean McNiff, marketing intern for The Perch, said he hopes that it will provide him with the experience to thrive in the business world. Its operating hours are Monday through Friday during third hour..
While the decision to add the credit union to EPHS was just made in April, the Royal Credit Union has already established branches at Spartan and Owatonna High School.
The Perch's main purpose is to provide a credit union for all students and marketing experience for its interns'. All students can sign up for the credit union but if you are under eighteen will need a parent/ guardian to co-sign on your account. Its main function is to provide a bank where students can receive loans, gain financial independence, and to make money deposits and withdrawals all at a .4% interest rate.
Every time a student makes a deposit or withdrawal they earn a Perch perk for $1 to the cookie store or the spirit shop. Any profit that The Perch makes will go to foundations such as FEPS, EPHS boosters, and other organizations to help fund Eden Prairie Schools. Make sure to check out the new credit union!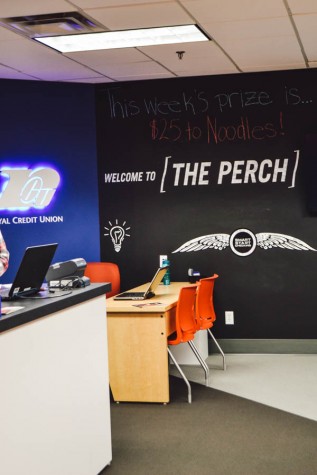 Zenab Kashif