How to Survive Registration
Registration season is coming closer and closer each day. Along with the frenzy of taking popular classes such as Middle East: Conflict & Crisis, students also have to take into account graduation requirements. Balancing classes necessary to graduate and classes for pleasure it extremely important in each high school student's life.
Classes such as AP Biology and Honors Chemistry are clear on what they desire from a student: time commitment, involvement in the class, and simple coming to class. It is shown from the course syllabus that these classes are hard and students should be prepared to face the challenges the class offer. When registering for classes like these it is important to make sure to not overload yourself, as it can take a toll on your overall grades. "Make sure to balance out all the classes you take because you don't want five hours of homework each night", said senior, Sunnie Guan.
In contrast to core classes, students have the opportunity to select from dozens and dozens of electives, some required and some not. Many students take electives required to graduate and try to finish them during their freshman and sophomore years. "It's so much easier to take classes you actually want your senior and junior year when you finished requirements earlier", said senior Amal Halane.
Some students also take electives for their learning too. Whether it is for pleasure purposes or the "easy A", there are always classes available for students to take in their free time. Regarding the common phrase "easy A', EPHS senior, Divya Chandorkar said, "there is no such thing as an easy A. In fact, it's usually the classes where you least expect it where I have gotten low grades. Beware of taking classes just for the easy grade, it usually never works."
As registration begins to haunt upon students, it is important to spread out time and make smart decisions on what classes to take. Mapping out schedules will assure students have room for all the classes they want to take.
How to choose AP classes
With registration just around the corner statistics show that there is a decrease in EPHS students signing up for AP classes their senior year. One of the departments that has seen the biggest decline in AP classes is in the English department. According to the Advance Placement coordinator Steve Rollin fewer students who took AP Language and Composition their junior year signed up to take AP Literature their senior year. Out of the 127 juniors who took AP Language and Composition, only 69 signed up for AP American Literature their senior year. Rollin said that the reason that seniors may not be taking AP classes their senior year is because they're are busy with college applications.
Counselor Lenny Moskowitz stresses the importance for seniors who are going to a four-year college to try at least one AP class before given it's the right fit for them. "AP classes very much prepare our students for college level courses once they graduate," said Moskowitz. "They are very beneficial," he said.
"I took AP Language and Composition my junior year because I wanted colleges to see that I challenged myself," said senior Ashley Brueggemann.  Brueggemann said that although the class was not that difficult, she still didn't want to sign up for AP Literature. "I heard it was very hard and I wanted to have an easy senior year," said Brueggemann.  She said that she didn't mind all of the writing assignments that AP Language and Composition acquired, but she had no desire to sign up for AP Literature, which requires a great deal of reading.
"I took AP classes my senior year because I want to be well prepared for college," said senior Allie Wilke. Wilke said that she knows she is ready for college because of the rigorous workload she has taken.
"First and foremost, I always want to make sure that AP classes are a good fit for the student," Moskowitz.  "Some students are simply not aware of the rigor of an AP course," he said.  Moskowitz said he gives out drastically different advice to each student. "Some students are 4.0 students who can handle 2-3 AP courses at a time," he said.
Take a class for the teacher?
With EPHS teacher Steve Cwodzinski's retirement this year, there may be some concern for the future of the AP U.S. Government and AP Comparative Politics combined course (also known as APPS), which Cwodzinski has taught for the past five years. Craig Hollenbeck, the teacher of the Comparative Politics portion of the course, seems unconcerned about the transition, "[Mr. Sibley] is a very capable guy to come in and take over the AP Government part, and so we are confident that APPS will continue successfully because we believe in the program," said Hollenbeck.
APPS is just one of a few examples of classes at EPHS which are known for their teachers. In a recent survey conducted in connections classes it has been found that the teacher who teaches the classes influences many students in their course selection. In this poll, 32% of students responded saying they have taken a class because of the teacher teaching it, while 47% reported that they have decided not to take a class because of the teacher who teaches it.
Many of the teachers in EPHS have reputations; "We hear about it from time to time. We know teachers have reputations out there. I think there is a big degree of kids taking a course and finding out great things about teachers that maybe they weren't aware of before, they didn't have a familiarity with before," said Hollenbeck. While the majority of students do not choose their classes for the teacher, many students still do.
About the Contributor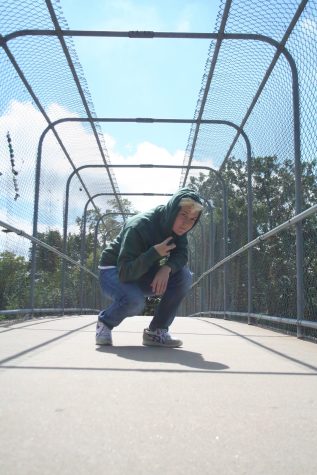 Sawyer Hilt, Photo Chief
Failure, Senior news editor, and photo chief. I like irony, general unhealthiness, and oxford commas.