MDHR commissioner comes to CORE
"We as a state are becoming more diverse racially and ethnically," said the commissioner of the Minnesota Department of Human Rights, Kevin Lindsey.
Last week during CORE, the Young Democrats club invited Lindsey to come speak to students about his department and what they do to protect groups in Minnesota.
Lindsey described the three main tasks that the Department of Human Rights is responsible for:
Investigating the charges of discrimination
Ensuring equal employment opportunity, including women being paid equally to men
Using education to reduce discrimination
Minnesota is one of the only states that has a government body working to create equal pay between men and women. We were also one of the first and only states to have a department of human rights, Lindsey said.
His department worked to implement the Ban the Box law in Minnesota. A law that removes the box on job applications asking if the person has ever committed a crime. Lindsey said that this question gives disadvantage to people who are being told to be active members in society but are not able get jobs.
The Ban the Box law means that employers have to interview a potential hiree before they can ask if they have committed a crime. This give people a chance to explain the circumstances of their crime before being removed from the running for a position.
There is nothing in Minnesota law that requires administrative agencies to reach out to the community to get the opinion of people before they create new laws. The Department of Human Resources is working to implement an executive order that would improve the lawmaking process by requiring agencies to talk with the community and get their opinions.
Lindsey said one of the lessons he wanted to leave with the students is that "nothing is guaranteed within the political process, and if there are things that you really like, that you think have value, you need to raise your voice and say they matter to you. One of the ways you raise you voice is by registering to vote."
When asked how people under 18 could make a difference, Lindsey said in the past the actions of students have led political movements. He urged students to take action if there is something that they are passionate about, "you can't wait for people to tell you when it is time to use your voice," said Lindsey.
About the Contributor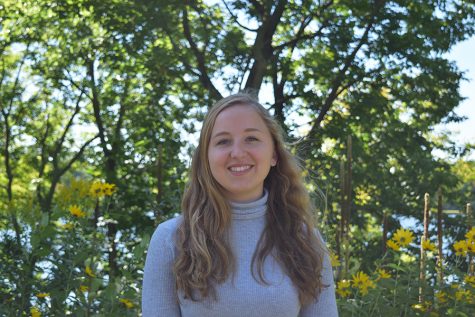 Emma Swanson, writer, photographer
Hi my name is Emma and I am a senior returning to staff this year! I am the photography and graphics editor this year for the Eyrie. I love photography,...