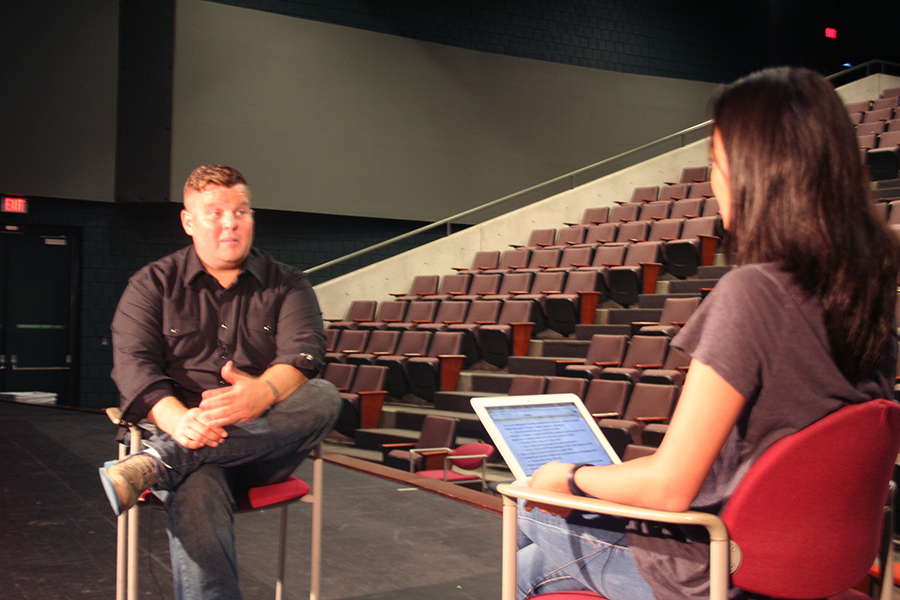 Returning to where it began
Adam Bartley is best known for his roles in the hit TV series "Longmire" and "This is Us." On Monday, October 2, the actor came back to where his love for acting began: Eden Prairie High School. Bartley, a class of 1997 alumni of EPHS, spoke at the Foundation for Eden Prairie Schools' "Beyond the Diploma" fundraiser.
Earlier in the day Bartley spoke to choir students and sat for an interview with the Eyrie and EVN.
Although he did not decide to become a professional actor until his 30s, Bartley's first experiences with acting was in high school.  "Having the ability here to find my confidence was vital in my story," he said. He attended drama camp and appeared in countless drama productions. He was also involved in Odyssey of the Mind, peer counseling, choir, an improv group and speech; he was the state champion in Drama Interpretation in speech in 1997.
Bartley credits his teachers for guiding and pushing him in high school. Choir teacher Julie Kanthak and drama directors Rolf Olson and Susie Sime were particularly impactful. He said, "I can't thank those people enough for the seeds they planted."
Bartley thinks highly of his time at EPHS because it was where he found his passion for acting and discovered who he wanted to be. He urges all students to take advantage of all the opportunities at EPHS and in their lives to find their one true passion.
"Find the thing that really moves you, the thing that really opens your eyes and inspires you. Try them all: try soccer, try sports, try underwater basket weaving; it doesn't matter, try anything that you can get your hands on," Bartley said. "Because one of them is bound to make your eyes light up when you think about it."
The full interview is attached above.
Special thanks to Mara Williams and EVN.