The Minnesota Green New Deal
The national Green New Deal is an environmental justice pledge that commits the U.S. to a climate-friendly future. It proposes a 10-year plan that would invest in clean-energy jobs and put federal money into using resources like wind and solar renewable energy production to lower the U.S.'s greenhouse gas emissions to net-zero.
Recently, Minnesota proposed a similar bill modeled after the nationwide promise. This statewide bill calls for the necessary action needed to address climate change while at the same time creating thousands of green jobs in a sustainable economy. The goals of this bill are to develop a comprehensive plan for Minnesota leadership that will support a sustainable economy and an equitable transition over the next 10 years.  
"It takes many of the same core concepts of fighting climate change and doing it in a sustainable and healthy timeline," said Gabe Kaplan, a Sophomore at St. Louis Park High School and a member of the MN Can't Wait bill team. "It also specifies parts of it to Minnesota so that we aren't just taking a copy paste piece of legislation from the national green New Deal."
A sustainable economy includes 100% renewable energy, energy efficiency for all homes and buildings, no development of fossil fuel infrastructure, eliminating greenhouse gas emissions from industries and transportation and an overall drawdown of greenhouse gases.
The bill was written and introduced by Rep. Frank Hornstein, DFL-Minneapolis, along with strong involvement from the youth organization, MN Can't Wait.
MN Can't Wait is a movement of youth climate activists from all over Minnesota pushing for bold, necessary changes in our state to protect our futures from the climate crisis. Their goals are to regulate greenhouse gasses through statewide executive action, pass the Minnesota Green New Deal in the legislature and stop all new fossil fuel infrastructure projects, such as the Line 3 pipeline.
The bill was introduced into the Minnesota House on Thursday, April 11th. "We need aggressive action that does something now to save our future," said Sophia Faacks, an 18-year-old senior at Minneapolis South High School, during the bill's launch. "Minnesota is just one of the steps. If we can't get a national resolution, we need to start doing it state by state."
The main concern of those in opposition to the bill is the collapse of the economy that many consider inevitable with the absence of the coal industry. The bill's supporters address this by saying that the transition to renewable energy will not only sustain the economy but strengthen it.
"Not combating climate change and allowing it to take root across the globe would be the most expensive option here," said Kaplan. "We've already heard from a report by the federal government saying that it would reduce the American economy by 10% by 2100. If we don't do anything it would cost us literally hundreds of billions of dollars."
Many low-income communities rely on various fossil fuel-producing corporations that would be reduced or closed with the passing of the Minnesota Green New Deal, but legislators have kept this in mind and are well equipped. "There's obviously a large need to support those communities that rely on fossil fuels and work in the industry, so there's a strong aspect in the Green New Deal to create training programs and financial support for those communities in need," said Kaplan.
In the global economic competition, many say that now is not the time to be taking risks with renewable energy, but foreign powers seem to be a step ahead. "America used to be a leader in renewable energy, but as President Trump transitions back into the coal industry, which is a dying industry and more expensive than Renewables anyways, other countries like China have invested in renewable and have taken advantage over us with the energy of the future which is wind, solar and maybe even nuclear," said Kaplan.
With the threat of climate change looming, many question how they can aid the environmental justice movement. Dozens of organizations, local and national, are always looking for new volunteers and members. "As a state obviously passing this piece of legislation would be the first step, but individually communities and cities should be creating similar plans to transition their communities off of fossil fuels," said Kaplan.
Pieces of legislation modeled after the national Green New Deal such as this are appearing in communities all over the nation. As public pressures grow, lawmakers are feeling more motivated to pass environmentally friendly legislation, especially with the 2020 elections fast approaching.
About the Contributor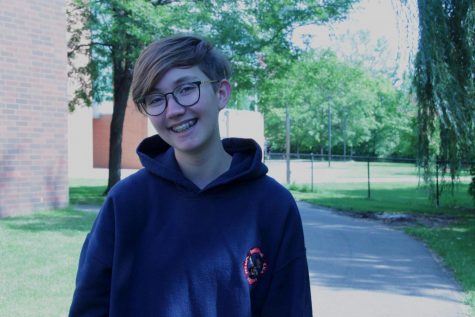 Katherine Kregness, Website Editor
I'm Katherine Kregness, and I'm a Sophomore at Eden Prairie High School. I spend lots of my time working with tech for the school's drama department....