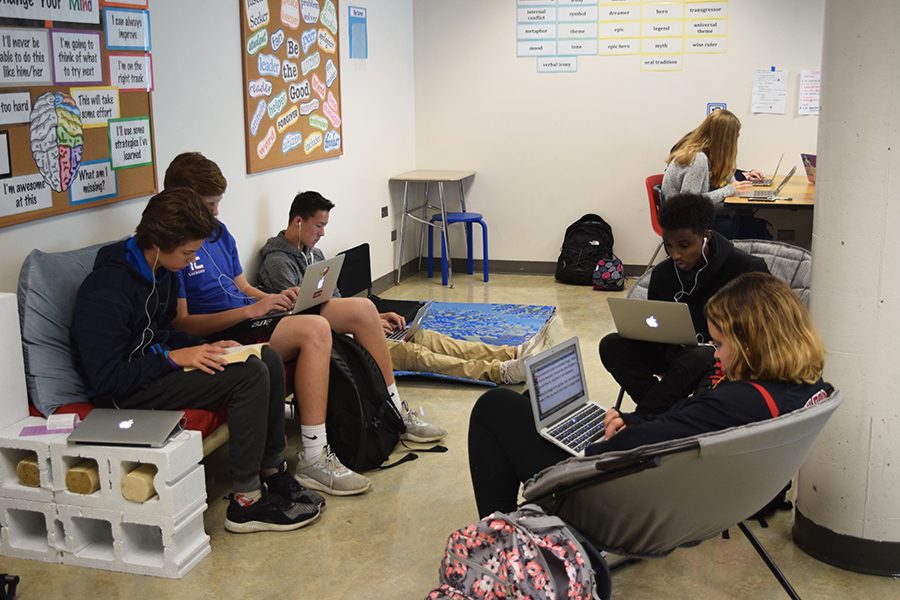 The push for personalized learning
The class period starts with a collaborative activity. Groups, or even the entire class, work on skills they've been focusing on. Next, everyone finds a desk or comfy couch and begins working on assignments at their own pace.
The room is silent as students watch videos and read on their laptops. Most have headphones plugged in. As English teacher Dominick Kirkpatrick walks around her classroom, she stops to speak to a few students and check in with them.
This change in teaching style may be new to students, but EPHS and other schools are beginning to adopt this mode of teaching. It's all a part of the push for personalized learning.
As technology advances, education evolves. Eden Prairie's Designing Pathways, a community engaged process, is emphasizing the importance of personalized learning.
Principal Conn McCartan said that personalized learning is all about student choice and voice. "We will teach you what you need to know, so you can learn what you want to know," he said. Students will be in control of some aspects of learning, such as pace and content.
Encouraging students to get excited about learning is also the key to personalized learning, said the district's Senior Director of Personalized Learning Michelle Ament. EP schools are "making sure that the learning that's happening is relevant to who you are as a learner and that it connects to you," she said. Figuring out how to adapt personalized learning to the different cultures and background kids come from is one challenge that EP schools face.
Subtle changes, such as choosing outside reading books, clumped desk patterns and more technology, are all factors in personalized learning. Kirkpatrick has been making these changes in her English 10 class, which is a blend of traditional teaching and personalized learning.
The class is new this year, but Kirkpatrick has seen good results so far. Students get more time to ask her questions when they get stuck. As students work on what she calls at-your-pace time, Kirkpatrick has time to observe how students respond and improve on their assignments.
When she notices that a student doesn't understand the material, she is available to work with them. "What I know that students need is to be able to work with their teachers more one-on-one," she said. "In the old way I did things, that was just not possible." Kirkpatrick said that one big improvement she has seen from her hybrid class is that students are understanding content faster and better.
Ament said that this improvement comes from the different teaching style, not just the technology and choices that come from personalized learning. Teachers used to be "the deliverer of knowledge," Ament said. "What we're moving to is the teacher facilitating."
To prepare teachers for facilitating, EP schools have provided training for teachers and instructional coaches to help teachers utilize technology. Natasha Monsaas-Daly, who is an instructional coach at the high school, helps teachers move beyond "the four walls of a classroom." "There should be a different effort on the teacher's part to restructure, rethink, and reimagine the way their classrooms look," she said.
Monsaas-Daly specializes in the technology aspect of personalized learning, which she said is important to the future of teaching. "If we don't use technology as a part of our personalized learning, we're doing a disservice to kids," she said.
Having technology, instructional coaches and other resources available to teachers is a privilege, said Cory Klinge an instructional excellence coordinator for the district. Klinge worked closely with Kirkpatrick to create her blended class and said that EP schools have what they need to implement personalized learning. Even having a department for personalized learning is a step ahead of many schools.
However, change is slow when it comes to personalized learning. Kirkpatrick spent about two years taking classes and preparing materials for her blended learning class. "I have to take the best practices of teaching and marry those with the best digital tools, and then you get the best personalized learning," she said.
It takes time, energy and money to equip teachers to take on personalized learning. Building administrators, such as McCartan, choose how to implement personalized learning, and superintendent Josh Swanson said that sometimes teachers don't want to make this big change.
Each department has to go through curriculum review every three years, and sometimes the push for individualized learning can be a challenge for the particular subjects being taught, according to Ament and Swanson. Ament confirmed that science is the next department to undergo a shift to personalized learning.
A reason why teachers may be struggling to make the change or just don't want to might be because of the technology involved in personalizing learning, Swanson said. Teachers have been utilizing social media and other interactive sites to engage students, but knowing how to properly use certain websites and technology requires time with an instructional coach or in a class.
Swanson acknowledges that there might be a few teachers who will refuse to switch teaching styles until they see results. He also said that the confusion on what online learning is compared to personalized learning might be keeping teachers from transitioning, too.
McCartan emphasized that personalized learning and online learning are not the same thing. He said online learning is under the umbrella of personalized learning because some students do best with online classes.
EPHS isn't just the only school going through with personalized learning. Other EP schools are taking on the same task, but the process is different for every school.
In elementary schools, teachers are encouraged to get to know each student well and watch for reading and math standards. Swanson said that an example of this would be how a second grade teacher would keep track of the reading level of each student and adjust the way the student is learning if he or she falls behind.
Klinge said that personalized learning is actually happening the most in elementary schools because of looping. Building relationships between teachers and students is important because then the teacher knows what students are passionate about.
In CMS, personalized learning becomes more challenging to execute because of shorter class periods and different teachers for each subject. To address this issue, a new required class was added to seventh grade.
IMPACT is a class where students discover their interests and work on a personal project. Students get help from their teacher and from classmates, but each project is unique and important to the student.
As other schools switch to personalized learning, Klinge said that one universal issue is that "it's tough to balance the demands of things like standardized tests with personalized learning." Because personalized learning is more about tailoring education to each student, it's harder to adapt to certain areas that standardized tests aim for.
Ament conveyed the same concerns. "At the end of the day," she said, "we still have to meet certain competencies and show proficiencies and take AP exams." Personalized learning is still in the process of being incorporated, and using different teaching styles to reach the same goal is difficult.
Personalized learning will be centered around individualizing the learning for the standardized tests, Swanson said. "We're pulling in a student's voice, and they have some choice in their learning," he said. "We also have these rigorous academic standards, and we want you to walk out of here prepared for your life."
While personalized learning is still in its early stages, those who have made the change see potential to maximize learning. "I find that it's a positive in every way," Kirkpatrick said. "If I didn't, I wouldn't keep doing it."