Student of the Month: Lauren Olk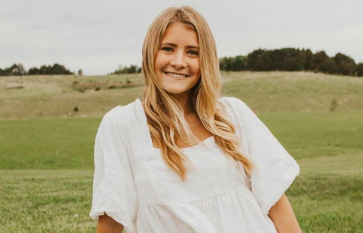 Q: What's your business & how did it come to be? 
A: thingslomade is a clothing business that makes custom, handmade products. thingslomade first started in June of 2019 when I had an extra sweatshirt at my house, put a denim Minnesota on it, and posted a picture on Instagram. People asked if I was selling them and from then on it became a small business. Throughout the past year thingslomade has helped raise money for Kankuk Kamps, How To Life Minnesota, Love one International, and now healthcare workers.
Q: What made you decide to give 5% of your earnings to healthcare workers?
A: When people in our community started to lose their jobs due to Covid-19 and I was still able to run my small business I knew that I could contribute to those in need. Healthcare workers are working overtime just to keep us safe and I wanted to help support them by donating 5% of our earnings to organizations that feed and provide for healthcare workers. 
Q: How many hours a week do you spend making these products?
A: On average I spend around 3 hours a day making products, but on the weekends usually more. Totaling an average of about 20 hours a week. 
Q: What's your favorite part of thingslomade?
A: My favorite part about thingslomade is seeing people wear and enjoy their clothes. Nothing makes my day like seeing someone wear a sweatshirt or shirt that I put time and heart into making. It's also so fun to see people from different cities and states wearing my products. 
Make sure to check out @thingslomade on Instagram!