Fancy Food Hacks
February 15, 2019
I love to cook and bake, but I don't want to spend four hours slaving away over a hot stove just to make something moderately fancy. I want to take my recipes up a notch, especially when I'm cooking for others, but some things are just too time-consuming and expensive. Here are three quick, easy and cheap ways to make dishes of higher quality. 
Chocolate mousse
Chocolate mousse is classically known as a hard dish to make. A typical recipe requires beating egg whites, melting two kinds of chocolate using a double boiler technique and about two hours of chilling. If you are planning on making a dish for an event or guests, I would suggest going through the work that a classic mousse requires since the end product is very hard to beat. However, if you just want a quick dessert after dinner or a bit of a chocolate fix, there is a much easier way to do it.
A simple homemade whipped cream beat in with a chocolate pudding mix only takes about ten minutes and gives you a deliciously light mousse. Pour about two cups of heavy whipping cream into a large bowl or stand-up mixer along with a tablespoon of powdered sugar.
Keep in mind that these proportions are flexible according to the main tastes you are looking for. Slightly more or less sugar is fine, but be careful not to use too much seeing as the pudding mix has quite a bit already. Less cream will make for a more chocolatey, but slightly floury, flavor while more cream will create a richer taste with less chocolate. If you are really seeking a rich but chocolatey taste, I suggest a tablespoon of cocoa powder.
Next, whip the mixture until it begins to thicken and bubble. Once you've reached this consistency, add the pudding mix bit by bit until it is completely mixed in and forms firm peaks.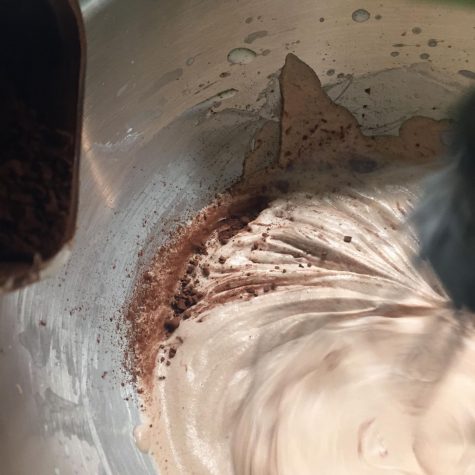 Chill the mousse for as long as desired and enjoy.
Boxed cake recipe
One of the most common ways to make a cake is simply a boxed mix with some oil, water and eggs. This strategy has definite advantages and tends to be quite tasty if you find a good mix, but it lacks many of the signature flavor profiles of a cake made from scratch. With just a bit of tinkering, however, these recipes can be fantastic.
First of all, use melted butter in place of the oil that is directed. Oil is generally suggested because it makes for an airier cake with more rise. Despite this, oil has none of the richer and smoother tastes that butter will offer to your cake. This does not necessarily apply to all types of cake, as sometimes texture is more important, but when it comes to classic chocolate or vanilla, this is definitely the way to go.
Secondly, substitute the water for milk. Milk will result in a creamier taste and more moist texture with a more layered flavor than the muted chocolate or vanilla you would normally get. If you prefer a darker, richer cake, try using buttermilk. It will require slightly less than either milk or water, but the end result is creamy and decadent. That being said, it will result in a slightly denser cake.
Finally, don't be afraid to try things. Some recipes do very well with an extra egg, while others become spongey. Adding a bit of exterior flavor will improve the cake significantly and layer the taste. A hint of almond extract or lemon in a white cake, or coffee in chocolate is sure to create a stronger, more formidable cake all around.
Plating
One of the simplest ways to step up your cooking is plating. Presentation has the ability to make or break a dish. It can be as simple as setting the table or as complex as varied purees.
Garnishes can do a lot for a dish. Cilantro and parsley are some of the most commonly used garnishes because of their vibrant coloring and universal flavors. A thin slice of fruit can be a great addition to a dish as it will add a pop of color and delicate design.
Be sure that your plating will match the dish in taste while still contrasting the color scheme. Read meats go very well with acidic or smokey flavors while sweet matches citrus well. Don't shy away from trying strange combinations as they will often surprise you.