Chocolate mousse
February 19, 2019
Chocolate mousse is classically known as a hard dish to make. A typical recipe requires beating egg whites, melting two kinds of chocolate using a double boiler technique and about two hours of chilling. If you are planning on making a dish for an event or guests, I would suggest going through the work that a classic mousse requires since the end product is very hard to beat. However, if you just want a quick dessert after dinner or a bit of a chocolate fix, there is a much easier way to do it.
A simple homemade whipped cream beat in with a chocolate pudding mix only takes about ten minutes and gives you a deliciously light mousse. Pour about two cups of heavy whipping cream into a large bowl or stand-up mixer along with a tablespoon of powdered sugar.
Keep in mind that these proportions are flexible according to the main tastes you are looking for. Slightly more or less sugar is fine, but be careful not to use too much seeing as the pudding mix has quite a bit already. Less cream will make for a more chocolatey, but slightly floury, flavor while more cream will create a richer taste with less chocolate. If you are really seeking a rich but chocolatey taste, I suggest a tablespoon of cocoa powder.
Next, whip the mixture until it begins to thicken and bubble. Once you've reached this consistency, add the pudding mix bit by bit until it is completely mixed in and forms firm peaks.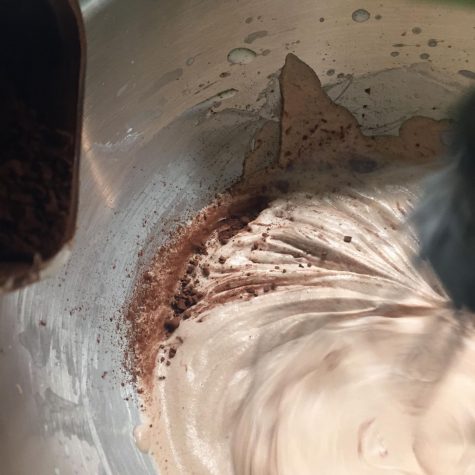 Chill the mousse for as long as desired and enjoy.