Romanticizing the truth
May 25, 2017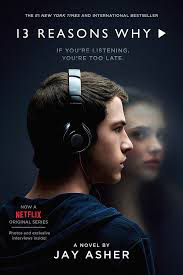 Netflix has made binge watching shows incredibly easy, but the content is not always so mindless. "Thirteen Reasons Why," a show based on a book by Jay Asher, produced by Selena Gomez, has become a popular Netflix original series. Spring break gave high schools the chance to rapidly watch the newest, teen drama.
The major critique of the show sounds the glorification of suicide and the romanticized image of teen substance abuse, mental health, and rape. Mental health and the glorification of suicide Sophomore Aubrey Mathews said, "The show is just too graphic and triggering with the entirety of the mental health problem. I seriously did not think it added to the show itself."
The main character, Clay, believes he was truly in love with Hannah Baker, but love is not the remedy to suicide and depression. "It's toxic to promote the idea that a group of minors could be wholly responsible for the death of a girl with an untreated mental illness," said Junior Genevieve Belote. This aside, the show has many students binge watching every episode.
"13 Reasons Why" features thirteen tapes that are passed to people who Hannah blames for her death. These revenge tapes sparked controversy and made many students question the realism of the show. "I think this is the most cliche show ever cause the message of show is what high school is like times two. Everything in the show is too much," said Mohamed Omar.  Teens are receiving tapes of horrible things they have done and seem unaffected until they may actually face consequences.
In the final episode of the show, Hannah finally seeks help from a professional school counselor. She pleads with the counselor asking if her rapist would go to jail if she came forward with her story. He continually gets distracted by his phone and gives no hope to Hannah. In fact, his advice is simply to move on from the trauma unless she has evidence. Steve Banks, one of Eden Prairie's social workers said the show's counselor displayed, "negligence, and I am glad it was just acting. It was poorly portrayed and I do not agree with how he handled it at all."
Banks also believes that Eden Prairie would have handled it differently by validating her feelings and said, "Part of depression is when you hear things it is a little bit distorted. Some of the feeling you have are a little bit distorted. They are not based on facts, but people don't understand that or don't believe that."
The show opens a dialogue if nothing else Belote said. There is a vast array of topics displayed in the show which can help parents begin to discuss and talk with their child. An email was sent from Eden Prairie schools to give parents talking points with their child about "Thirteen Reasons Why." Some include why suicide is never a heroic or romantic action and also includes the intense Hollywood portrayal of mental illness.
Senior Emily Pederson took a positive message from the show and said, "You might not even realize what everyone has to deal with." The show follows the lives of the people Hannah Baker blamed for her suicide to not only capture their reactions, but different problems students deal with.
Aubrey Mathews said the whole show felt too unrealistic to be set in an actual high school and "the situations Hannah faces may come up, but this is not every student's experience with mental health and is not accurate when it comes to how everyone handles it."