November horoscope
Aries– Recently you have struggled from an unkindness or an injustice done to you. This is the month that you will deal with these things directly. This month is about founding a foundation for a future venture. This month will teach you many lessons about friendship and career ambitions. There is also a spontaneous possibility that will be offered to you this month in terms of entertainment.
Taurus– Someone may really challenge you this month in your career and educational ambitions. You should walk away from it and not indulge, for this person is doing it for unkind reasons. You will also receive a number of invitations socially. An unexpected project is told to come to you this month as well! Watch out for career and educational opportunities.
Gemini– This month you may feel responsible for the drama that surrounds you. Do not allow this to cast a shadow over your month, though. You will also experience a sense of special energy around you, and you must use it to your advantage. This month a relationship opportunity is expected to approach you as well. Keep your eye out!
Cancer– This month may seem very frantic and anxious for you. You feel as though you might collapse from the burdens you are carrying. But towards the middle of November, peace and stability will find you and help you out of this feeling. Your family life will have good opportunities. In the sense that it's expected you, will grow closer to a relative this month.
Leo– You seem to have a lot going on this month, but slowly things will calm down throughout November. In addition to working and keeping responsibilities, this month will bring up many opportunities to have fun. Expect a spontaneous hobby that you will find…
Virgo– November reveals a great period in time for you. Although you may have some negative family endeavors surrounding you, you soon will overcome them. This month offers a money opportunity that will help you for future career aspects. Look out for that!
Libra– This month you may become jealous of other people's accomplishments. You may feel anxious and worrisome with responsibilities you have. But the responsibilities will result in proud accomplishments leaving you feeling satisfied. An exciting social event will also come up towards the end of the month!
Scorpio– You may feel you have wasted a lot of time on someone or something. This month is your opportunity to start using your time for things that will benefit you. November is about achieving your goals. Keep your eye out for an exciting opportunity within career opportunities!
Sagittarius– You may be dealing with someone you don't want to be dealing with this month. But throughout the month, you may see more positive sides of this person. During November a mysterious problem may arise with someone, but at the end of the month a chance to reconcile this problem will always occur. Watch out for this!
Capricorn– Your obligations may increase your stress during this month, but you must remember to keep a strong positive mindset, for this will help you in the future. You will also ponder an intelligent idea that will leave you working on this for the rest of the month.
Aquarius– This month you may feel frenzied and frantic, but the many opportunities presented to you will inspire you as well as calm your frantic-ness down. Communicating with friends and family is very essential this month. A problem may arise with a friend, but you will be inspired to handle it maturely.
Pisces– This month may be hard for you in the terms that a relationship of yours may be slowly losing its passion, but this month you will handle this in a unproblematic and hopeful manner. Also, watch out for an exciting career opportunity!
About the Writer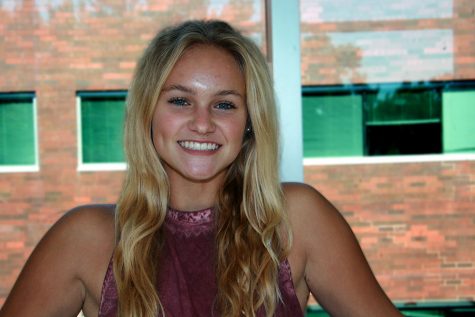 Baylee Brabender, staff writer
My name is Baylee Brabender, and I am a junior and staff member for the Eyrie. Also, I am on the Eden Prairie Dance Team. In my free time I enjoy writing,...