Oscar Review: Spotlight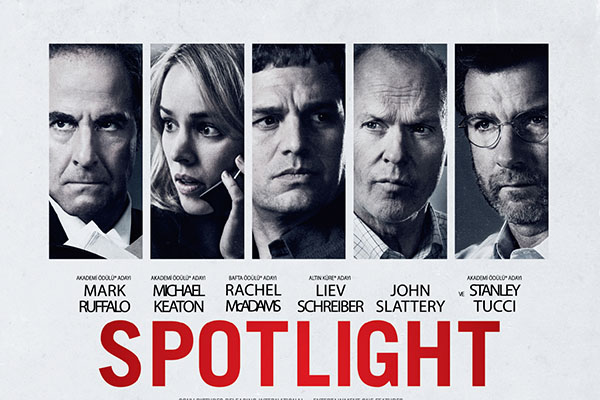 As I walked to the small, back-of-the-theater screening room to see Spotlight, I realized that I knew nothing about the movie. It seemed to come of nowhere: I had seen no trailers, posters, articles, talk show promotions- nothing. This made it a big shock to people when it got nominated for Best Picture at the 88th Academy Awards, and an even bigger shock when it actually took home the prize.
Spotlight tells the true story of a news team on the Boston Globe who are trying to uncover a child molestation ring happening in the Catholic Church during the late 90's and early 2000's. Michael Keaton, Liev Schreiber, Mark Ruffalo and Rachel McAdams star as the Globe journalists who put themselves on the line to bring these criminals to justice. The investigative journalism genre has been explored before with movies like 1976's All the President's Men, however Spotlight gives a fresh take on an issue that has, sadly, been largely out of the public eye for many years.
The one thing that should be kept in mind before going into this movie is that it is not a thriller in a traditional sense. You will not find heart-pounding action carrying this movie from scene to scene- you need to pay attention in order to get the full experience. All of the tension in this movie comes from the horror of the subject matter and the fact that it actually happened. The film is not afraid of the details of these tragedies and the effect that they have had on the victims and the journalists investigating them.
The frustration and the emotional investment made by these journalists is highlighted by the stellar performances of the entire cast. They carry the story, which otherwise could have been slow and boring. Their drive to pursue the truth shows the importance journalists still have in modern society. Mark Ruffalo gave a standout performance as writer Michael Rezendes, which earned him an Oscar nod.
Spotlight is not a movie to be missed. It shows the human element on both sides of a national tragedy. Both the movie and the messages that it bear are both worthy of the spotlight.