Revealing the truth of modern human existence, one rap at a time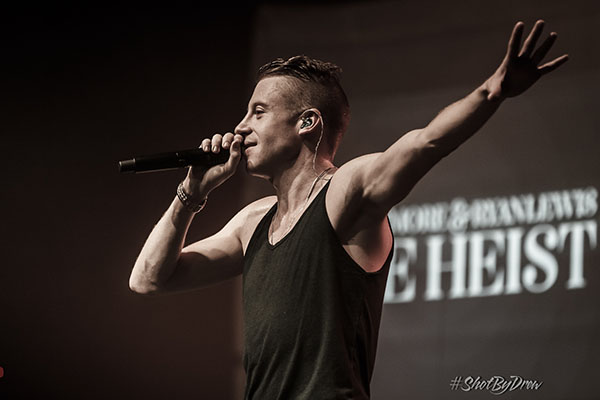 Ever since the release of their debut full-length album The Heist in 2012, rapper Macklemore and producer Ryan Lewis have taken the world by storm. Now, the dynamic duo's second album The Unruly Mess I've Made continues their legacy. It debuted at No.1 on Billboard's R&B/Hip-Hop chart, and for good reason. The album provides an interesting listening experience, pulling in listeners with catchy beats and relatable lyrics that stay true to the pair's past work.
For instance, "Let's Eat" discusses the well-known dilemma of wanting to eat everything but still worrying about your body. The conclusion of the song is to just eat. Really, this is the sentiments of so many people put into a 2 minute and 55 second piano jam.
Macklemore's lyrics often tell a story with a moral, and the songs on The Unruly Mess I've Made are— thankfully— no exception. In the hit single "Growing Up", he raps advice to his daughter, coaching her through her life with lyrics such as "Take risks, cause life moves so fast." It's no wonder this song climbed so high on the charts and stayed there: its slightly nostalgic, forward-looking vibe is one that people wish to fill their lives with.
The album features a variety of collaborations, from Ed Sheeran to Chance the Rapper to Jamila Woods. In "The Train," Carla Morrison sings the hook in Spanish. In all of the songs, these features blend in beautifully to the melody and theme of the song, rather than sounding out of place.
Overall, The Unruly Mess I've Made does a wonderful job of combining fun, upbeat songs with powerful, darker songs to tell a story of basic human existence in the 21st century. With a range of topics from driving around on a moped to #BlackLivesMatter (complete with real audio and interviews from the protests), Macklemore and Ryan Lewis do not leave anything out of our modern reality. In the last song on the album, "White Privilege II", Macklemore concedes to the fact that he is known as the "positive rapper." Personally, that one is my favorite. Its power and truth sums up the world Macklemore has tasked himself with reaching, and reach it he does.