How far does "uncomfortable learning" go?
Social studies teacher Brian Sibley said that his goal for Intro To Social Justice (ISJ) is for students "to see and recognize systematic injustice no matter where it is." The first official class of ISJ finished after first term, and a new way to learn came up in class: uncomfortable learning.
ISJ is a one-term class that officially started this year. The class is student-based, where students are allowed to bring in personal issues and discuss them in class.
ISJ is a class that mainly focuses on racial inequality. "Race is the biggest division in equity that we have in our country," said Sibley. Students study personal identity, learn about a variety of issues and complete a project.
The first term ISJ class was racially diverse, which led to segregation in seating. Sibley did comment that he might keep a seating chart for half the term instead of only the first week or two.
The experience of having a majority of people of color in the class was new for some students. "When you take AP or honors, you never get to see them. You're usually the only black person in the class," said senior Saja Osman. "Social Justice is the most diverse class I've ever had."
Junior Asaicea Brown said experiences she had during the class were uncomfortable but helped her grow. One day in class, Brown was called out into the hallway by Sibley to talk about her behavior in class. During a discussion, she refused to close her laptop when asked to, and she told Sibley she didn't care about the class. "Everybody has those days where they just don't care," Brown said. "But I was wrong in that situation because he's older, and he's the teacher, and I should've respected that."
They worked out a solution to keep her interested in the discussion topics. Both Brown and Sibley agree that Brown made growth during ISJ, but Sibley always knew she was smart, he said. "I see a lot of her in how I was," he said.
Brown and Sibley also discussed how she felt that Sibley wasn't treating students equally in class. Sibley said that he was deliberate in those actions, though. "No, I don't treat students the same," he said. "To me, it's an injustice to treat students the same. Students aren't the same."
Discussions about topics other than race got uncomfortably heated, especially topics about LGBT issues. Brown said that most people in the class didn't understand or care about LGBT issues. "We find it out of our comfort range because it's not about us," she said.
A student did a presentation on President Donald Trump's executive order on transgender rights, and Sibley initiated a conversation about whether gay people should be allowed in locker rooms. In Ross' words, "It got to the point where it wasn't a fun debate anymore."
This style of uncomfortable learning likely made many students feel hurt, but Sibley thinks it's worth the experience. "There were feelings hurt, and there were people who were upset, and I'm totally okay with that," he said.
External challenges in ISJ also led to uncomfortable learning. During the second-to-last week of first term, a substitute teacher made students like Brown and Osman feel targeted. The substitute ignored Sibley's lesson plan and attempted to have a conversation about race, which went poorly. Eventually, students were forced to be quiet and then sent to restricted study. Masse, Ross and Sibley all agree that the substitute didn't know what he was getting into.
The following days in the ISJ GroupMe chat, there was discussion over what should be done about this situation with the substitute. Osman suggested sending emails before asking Sibley, but a slight majority of the class disagreed, so no major email was sent.
Brown thinks that, because she was one of the students targeted by this substitute, she should have had more say in the situation. She wants everyone affected to sit down with the substitute and explain how the substitute made them feel.
Brown was not in the GroupMe chat, though, so she had to read updates on the situation through a friend in the class. Her friend also told her that some students were talking behind her back about when Sibley called her out into the hallway. The following Monday, Brown brought initiated a conversation about the GroupMe chat and the supposed rumors about her.
The discussion took most of the class period, which Sibley allowed. "That drama was normal high school stuff," he said. "I felt tension in the classroom, and I don't let that slide."
Brown thinks that the discussion was useful. "Some of the people involved in the situation apologized, and we're cool," she said. She wished that the discussion happened a few weeks earlier, though, so that she could've had time to change her attitude.
Ross, however, thought that the discussion took uncomfortable learning too far.  "At that point, it wasn't about learning. It was just drama. It wasn't really a learning environment at all," she said.
All of the events—the locker room debate, the issues with the substitute and the drama from Monday—added up to a learning environment that is unlike most classes at EPHS. Although all sources said that the usual environment was safe for people, sources like Brown, Ross and Sibley said that adding more rules and boundaries for classroom discussions might help Sibley to better facilitate these debates.
The next ISJ class is first hour fourth term with social studies teacher Kelsey Snyder, but students can also sign up for the class during registration. The staple of the class will always be uncomfortable learning, but Osman said that everyone's voice matters in ISJ. "Respect goes both ways, and in our class each person matters," she said.
About the Contributor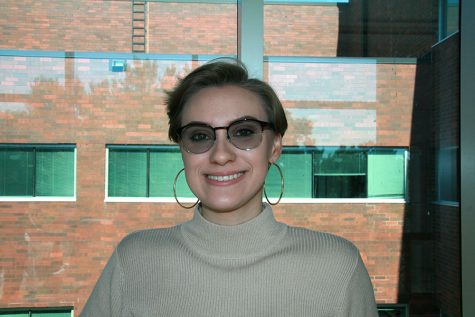 Karen Larionova, editor
Hey, I'm Karen Larionova, and I'm a senior. This is my third year on the Eyrie, and I'm the editor of this website. My hobbies include mock trial,...