Meet the mascot
At pep fests and games, the mascot is always cheering us on. Although their identity is kept a secret, people tend to forget they're still a real person, not a stuffed animal. Meet the mascot, and learn about their experience as the "epitome of school spirit."
Q: When did you start your career as the Mascot and how?
A: I started the end of my freshman year because I was friends with the mascot at the time.
Q: Why did you want to be the Mascot?
A: I just thought it'd be fun. I'm a little ridiculous and weird. I thought it would be really cool how I could run around, and no one would know who I am. I'm extroverted, but I'm also really shy. Nobody knows it's me, so I can be as ridiculous as I want and have so much fun and not worry about social anxiety.
Q: Did all of that end up to be true?
A: Yeah, it's pretty true. Sometimes it can feel like a chore because I'm like, "God, this is taking so much energy." I look like I've taken a shower when I'm done. Seriously, ask one of the football players, but it's usually worth it.
Q: What's your job?
A: To be the epitome of school spirit.
Q: How does the student body interact with you?
A: It depends on which part of the district you're talking about. The sixth graders are evil every year. I go to their hill once a year with someone to make sure they don't take my head off. Little kids love it. Sometimes they cry if they're scared, but it's understandable. I'm basically a six-foot monster. High schoolers? I think they think I'm lame. At the football games or pep fests, I'll reach my hand out to give someone a high five, and people will just look at me and keep walking. Every football game, I have at least one person who tries to take my head off to figure out who I am, and it's not okay because my head is attached to a helmet. At one football game recently, a guy asked me if I was a girl or a boy. His friend said, "grab that ass." It's weird because everyone knows I'm a person, but no one respects me like a person.
Q: Has anyone ever grabbed you like that?
A: Yeah, a couple times, actually. More than once. Sometimes, I think it's because they think I'm a guy.
Q: How do adults and staff interact with you?
A: They're really nice and respectful. Sometimes they're really excited because a lot of them know who I am. They're like my personal cheerleaders.
Q: Who else knows who you are?
A: The cheerleaders have to know because if I go to a cheer practice, I'm not going to be in costume. Sometimes one of them walks around with me. Both the cheer coaches know, and most of the activities office, too. The principal knows. The security guards have to know because sometimes I'll go to school with a big, white bag full of things, and they ask what's inside, and I have to tell them it's the mascot. A few select teachers know, too, but that's about it.
Q: Will you ever reveal who you are?
A: Well, I'll be at graduation this year. I don't know what I'll be doing, but I think Mr. Virgin has something planned. The only clue I'm giving to anyone is that I'm a senior.
About the Contributors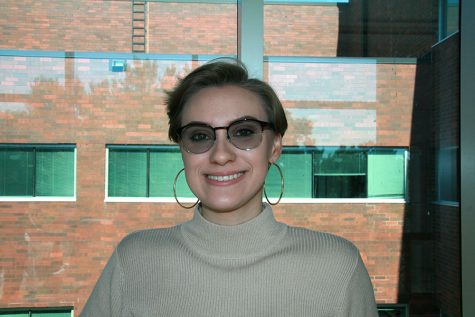 Karen Larionova, editor
Hey, I'm Karen Larionova, and I'm a senior. This is my third year on the Eyrie, and I'm the editor of this website. My hobbies include mock trial,...
Sydney Lewis, Editor-in-Chief
My name is Sydney Lewis and I am a senior! When I'm not writing for the Eyrie I am probably in the theatre or at a political event. I mostly write about...