The Polar Plunge Comes to the High School This April
No longer in the freezing cold of the winter months, the 2021 Polar Plunge, organized by the students of Friends Forever, takes place on April 15th and in the parking lot. 
Because of Covid-19, students who participate in the Plunge will be able to jump into a truck full of cold, chlorinated water parked outside the school. "I've done it for two years and Lake Riley is insanely cold, so I'm a little excited it's in the tank," says senior Abbey Ladegaard, a leader in Friends Forever and organizer of the event. She thinks that because it'll hopefully be a little warmer, this would be an especially good year for newcomers to try the Plunge. 
Like always, participants will be raising money for the Special Olympics Minnesota, which the Friends Forever club is affiliated with. Special Olympics Minnesota is an organization that provides health, athletic and leadership programs for people with disabilities.  Junior Ellie Gilbert, a leader of Friends Forever, will also be doing the Plunge to help support the cause. "By raising money we're able to provide a free environment where they're able to do things that they love that they may not have been able to do otherwise," she says. 
In the Polar Plunge, plungers will be jumping in small groups at a time following Covid-19 safety guidelines. According to Gilbert, different groups will be excused to go throughout the school day, and specific times will be released closer to the date.
Whether it be students, teachers, friends or family going solo or as a group, anyone can sign up for the Polar Plunge. All participants will be asked to raise $50.  Since Gilbert says that most people go "above and beyond" that amount, she encourages everyone to join without worrying about the money. 
Students can register for the high school's Plunge on the Polar Plunge Minnesota website here: https://reg.plungemn.org/register. Sign-ups will be accepted up until the day of the event. Students who sign up can create a team or join an existing one. They can also contact the leaders of Friends Forever, or the leaders of EPHS National Honors Society and Key Club, if they have any questions about the event. 
Senior Ava Yang, another leader of Friends Forever, is excited to see everyone at the event. For anyone who's still unsure about taking the plunge, Yang says, "I would tell them don't be nervous. Have a good time and have fun."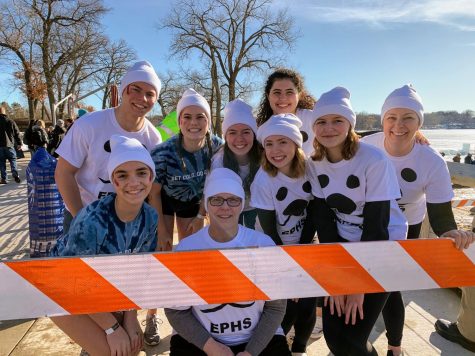 Check out the event page on the Polar Plunge website here https://www.plungemn.org/events/eden-prairie-high-school-cool-school/#down and visit their Instagram page @epfriendsforever for more information.
Update: the Polar Plunge is now taking place at Lake Riley on April 24th. Information to join is here: https://www.plungemn.org/events/eden-prairie/.