Sharing life through a lense
Want to look back and remember what you were up to in your high school years? That's exactly what students at EPHS are doing. Some students are making videos of cool places they have been to and activities they have done.
"When I am 100 years old I want to look back and see what I was doing in high school", said Junior Dane Fehrenbach.
Fehrenbach has recently been filming and editing his videos to upload to YouTube. "It gets me out of my comfort zone and encourages me to do things I normally wouldn't do", he said. Fehrenbach hopes to travel and explore more often in the next year. He also is trying take and upload more videos on YouTube.
In taking videos and capturing his life in the past couple months, he has realized that he does the same routine every single day and is hoping that through videotaping he can change up his routine. He said, "It gets me out of my routine, and teaches me many things about myself."
Recently, senior Peter Halvorson has traveled to Alaska and Costa Rica and captured some great film that he has uploaded to YouTube. Halvorson's favorite trip was Alaska even though it rained almost all of the trip and his camera was almost ruined. He explains that there is more to life than being sheltered in the suburbs or within the familiarity of your own city. Halvorson said, "I make videos to capture things and make them look cool."
Halvorson explains that he was inspired to start filming by seeing YouTube videos and thinking he could create edits like that too. A lot of his videos are nature and places he has been to. He said, "For me it's the story telling, to tell a good story and to make people grasp onto the content on the video."
Halvorson plans to continue his video graphing in college next year. He wants to learn more about digital and film studies. He said, "In the next year I want to make more videos and learn how to do different things with it." When he goes to college, he wants to keep it in his life.
Seniors Bennet Brosseau and Harrison Freeman have a YouTube channel called Danica Boyz with Jake Kelly, Charlie Klein, and Tyler Marceau. Many people ask where they got this crazy name from. Brosseau explains that it started out as a joke with how fast Harrison drives. The original name comes from Danica Patrick, the only woman Nascar driver.
Danica Boyz features five guys and their summer together. Brosseau said, "We decided at the beginning of the summer, we wanted to do something to remember it." They have made twelve videos since starting their channel in early August this summer. Usually they film and edit the video in one full day. Some goals they have for the next year is to try to upload twice as many videos, feature different people and film new places outside of EP. They hope to purchase a new editing software soon and new lenses.
Brosseau said, "It's always been a dream of mine and Harrison's to make videos like this." Their favorite part about having the YouTube account is editing the videos. They enjoy mixing up the videos and making it into something different than they thought it would be. Usually Freeman and Brosseau are the ones to edit the videos together. Brosseau said, "Even though we are the ones to edit and shoot the videos, it is a team effort. It takes all five of the boys and I could not do it without them." Danica Boyz definitely work as a team.
 Youtube is a great way for these students to show others what they work on and how they are creative. All of these students want to upload more different, unique videos in the next month.
About the Contributor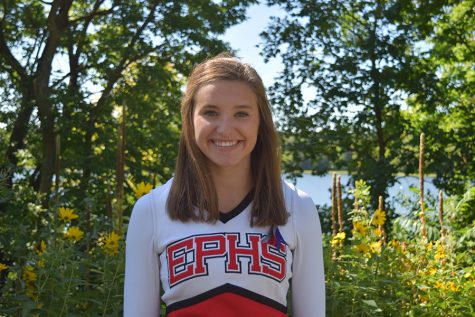 Elizabeth Buse, writer
My name is Elizabeth Buse. I am a senior staff member on the Eyrie. Also, I am on the Eden Prairie Dance Team. In my spare time, I spend time with friends...