Zupas Review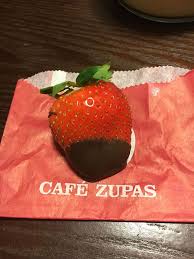 BY CARTER AAKHUS
Zupas is one of a few new restaurants in Eden Prairie; despite being not a big fan of soup-and-sandwich shops, I was very impressed after both of my visits to the restaurant.
The first positive things that hit you as you walk through the door are the cheerful, friendly attitude of the staff and the very interesting decor. The staff asked me right away how I was doing and what I would like to order. They gave me time to choose and never made me feel rushed such as a place like Chipotle would make you feel.
The design and style of the restaurant is very modern and unique. For example, there is a bar that you can sit at with an illuminated wall in front of it featuring TV screens that have Zupas trivia and entertainment on it. There are also steel stools at this bar with phone chargers along the wall, which never hurts.
The drink choices are varied and delicious. Other than the usual Pepsi-or-Coke products, featured drinks include various teas, Italian sodas, and juices mixed with creative fruit flavors. There is even a recommended list from staff and customers of flavors to mix with the sodas.
As far as the menu goes, it is terrific. I tried both the Cuban sandwich and their delicious take on the classic grilled cheese. I was very impressed with both. The combination of new ingredients were refreshing and the meat in the Cuban sandwich was tender and perfectly cooked.
I would give a rating of 9/10 to Zupas for having excellent service, food and decor. The only problem that I have is that the serving size for the sandwiches is not very big. Other than that, I say that you should try eating someplace new and give Zupas a chance.
About the Contributor
Carter Aakhus, staff writer
I am a senior, and this is my second (non-consecutive) year of pecking keys for The Eyrie. I am a decent writer who wastes a lot of time watching movies,...