Claire Willett: "Women's rights are human rights, plain and simple"
     Thinking about the continually occurring violations of human rights worldwide might bring hopelessness to some, but for senior Claire Willett, inspires her to make change. 
     Like many people, she used to see herself as just one person incapable of solving issues.This all changed after she attended World Without Genocide's Summer Institute, where she became educated on different topics centered around genocide and human rights. It opened her eyes to learn ways she could be involved in solving these problems."I realized from there that I wasn't just completely useless," said Willett. 
     She became a Young Fellow in Law and Government with World Without Genocide. This position gives her access to work with the organization on new initiatives, such as the two laws for women's rights she's been working on. 
     One of the laws Willett is advocating for is against child marriage statewide, an issue that harms many young girls today. In Minnesota, a legal loophole allows minors aged 16 to 17 to marry with parental consent. However, the exception is often abused by parents and local court systems to force young girls into marrying older men in instances of rape, arranged marriages, and pregnancy. 
     According to Willett, child marriage is very much a local human rights issue: "A child can be coerced into marriage by outside factors, a child can be taken advantage of by older adults, a child can be saddled with responsibilities that are far too great for her age, and worst of all, she loses her ability to be a child. She loses her autonomy, and she misses out on formative years to become self-sufficient and independent." 
     After World Without Genocide introduced Willett to the issue, she felt compelled to take it up because girls her age were the ones trapped by these situations. "It's important to show that youth are the ones who are impacted by this, and that youth are the ones who care about this," said Willett. 
     She attended a press conference and protested at the capitol for the bill to get a hearing in the State Senate. At the press conference, she gave a speech for support of the bill to many local news stations. For the protest, she wore a wedding dress and marched to the rotunda.  The event was successful; the bill got a hearing in the State Senate's Judiciary Committee where Willett testified with the same speech. It passed unanimously and will be brought to the Senate floor, where it will be debated and ideally passed, putting it in place as law. 
     "I am disappointed that in 2020, only two states have made child marriage illegal, but Minnesota can, and should, follow in their footsteps," said Willett.
     Following her push for women's rights, but in this case at a city level, Willett is also working on passing the Convention for the Elimination of Discrimination Against Women (CEDAW) in Eden Prairie. CEDAW is a United Nations treaty for women's equality, and Willett was shocked that the United States was one of seven countries that have not ratified the treaty. Willett believes it will set a legal precedent for gender equity and further steps in equal pay, ending gender discrimination, and ending sexual assault if passed. She, along with a few other students, presented to Eden Prairie's Human Rights Commission about the treaty.
     Willett chose to work more extensively on women's rights because there's still much needed work to close the gender gap worldwide. Willett has found that gender inequalities, such as biases and stereotypes against women, still are prevalent in our society and world today: "They may not be as overt as they were 100 years ago, but these issues still exist on the macro and micro levels. When 51% of our population is regularly discriminated against in various ways around the world, there is no way to argue that this is not a human rights issue."
     Willett is attending University of Wisconsin-Madison this fall, where she plans to pursue a career in human rights and law. She also hopes to extend her current initiatives there by passing CEDAW in the city and the law against child marriage in the state.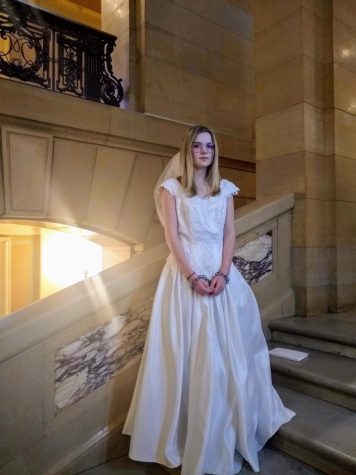 Although both the laws don't have a direct global impact, Willett believes that real change happens only one step at a time. That's how she learned she can make a true impact: "People feel like they're not qualified to do things like this. But the thing is, you are qualified. Your voice counts, and you genuinely matter. People will listen if you're loud enough."