Students earn recognition at Minnesota DECA conference.
91 students from Eden Prairie participated in the annual Minnesota DECA State Career Development Conference in Minneapolis, MN, March 19-21, 2017.
During the school year, approximately 4,000 Minnesota DECA student members take part in the organization's competitive events program, allowing them to compete in over 50 events focused in the areas of entrepreneurship, finance, hospitality, marketing and other related fields. The competitions are designed to simulate real-life business scenarios and test students' academic understanding and skills development. After qualifying earlier this year, district winners put their talents to the test during the State Careers Development Conference. The DECA Advisor is Karen Brettingen.
Students receiving state recognition and advancing to international competition include:
     Abby Boehm, Hannah Brink, Hanne Considine-2nd place in Advertising Campaign Event
     Gabby Thomas-3rd place in Business Services Marketing Series
     Parker Hewitt-5th place in Business Services Marketing Series
     Bailey Dements, Charlie Klein, Parker Hewitt-1st place in Community Service Project
     Lillian Lewis, Hannah Luong, Brynn Meyer-4th place in Fashion Merchandising Promotion Plan
     Charlie Klein, Matt Wasson-3rd place in Finance Operations Research
     Connor Lanahan, Chase Nerison-3rd place in Franchise Business Plan
     Lily Qian, Mira Subramanian, Inika Shetty-2nd place Hospitality and Tourism Operations Research
     Caleb Martin-4th place in Hotel Lodging Management Series
     Elena Page, Gabby Thomas-1st place in Learn and Earn Project
     McKella Nordquist-3rd place in Marketing Communication Series
     Ri'enna Boyd-3rd place in Principles of Business Management and Administration
     Eric Friswold-4th place in Principles of Business Management and Administration
     Katie Haghighi-1st place in Principles of Hospitality and Tourism
     Matt Goodburn, Ethan Jones-1st place in Sports and Entertainment Operations Research
     Joe Mendyke, Clayton Witherspoon-1st place in Sports and Entertainment Team Decision Making
     Briana Collins, Sam Marsh-2nd place in Sports and Entertainment Team Decision Making
     Patrick Yang-1st place in Start-Up Business Plan
In April, these students will travel to Anaheim, California to compete with 16,000 top students from around the world at the International Career Development Conference- the pinnacle of DECA competition.
Other top 12 finishers include:
Molly O'Laughlin in Advertising Campaign Event
Rehka Claus, Raquel Taborga in Advertising Campaign Event
Suvarna Nallamalli, Amy Wang in Advertising Campaign Event
Matt Goodburn in Apparel and Accessories Marketing
Miles Kelly, Nelson Linscott, Tommy Thurin in Business Growth Plan
Shelby Lyons, Sam Riedel in Buying and Merchandising Team Decision Making
Saurav Suryawanshi in Financial Consulting
Abhishek Aravalli, Tharun Rao in Hospitality and Tourism Operations Research
Kady Mill in Hospitality and Tourism Professional Selling
Emily Considine, Hannah Sirek in Hospitality Team Decision Making
Brynn Meyer in Hotel and Lodging Management Services
Parker Hewitt in Innovation Plan
Molly O'Laughlin, Inika Shetty in Marketing Management Team Decision Making
Matt Wasson in Personal Financial Literacy
Bowen Jiang in Retail Merchandising
Katie Rudin, Ingrid Norberg in Sports and Entertainment Promotion Plan
State only event top finishers include:
Logan McCarthy-2nd place in Employment Interview-Advanced Level
Tommy Hartle-3rd place in Employment Interview-Advanced Level
Dharshini Anugu-Top 12 in Employment Interview-Entry Level
Pate Hanson, Sophie Riebling, Arnav Suryawanshi-2nd place in Marketing Plan Product Area
DECA prepares emerging leaders and entrepreneurs for careers in marketing, finance, hospitality and management. DECA enhances the preparation for college and careers by providing co-curricular programs that integrate into classroom instruction, apply learning, connect to businesses and promote competition.
The Minnesota High School Association is part of a larger organization comprised of over 215,000 members from all 50 United States, the District of Columbia, Canada, China, Germany, Guam, Mexico, Puerto Rico and Spain. For more information about DECA please visit www.mndeca.org and www.deca.org.
About the Contributor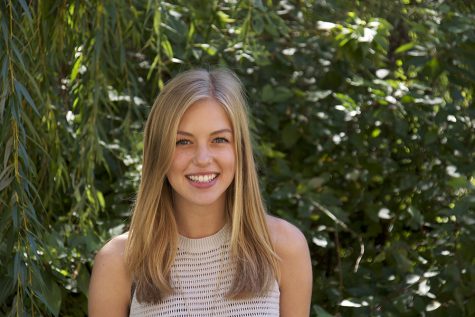 Gabby Thomas, Writer & Photographer
Hi everyone my name is Gabby Thomas, and I'm a senior.  I joined the Eyrie since it seemed to be a fitting place to share my love for writing, photography...