Fiddler on the Roof
By Kelly Pu
"Fiddler on the Roof," the fall musical, will put a new and relevant twist on a classic production.
The show tells the story of Tevye and his five daughters as Tevye tries to maintain his Jewish culture and religion in the face of a changing world. Based on a series of short stories by Sholem Aleichem written in 1894 and first performed on Broadway in 1964, "Fiddler on the Roof" has been put on thousands of times by productions ranging from Broadway to schools.
"The fact that this is such a well-known show, it's going to grow and reach a lot more people," said junior Anika Pai, one of many actors involved with the production. But a challenge with putting on such a classic musical is making the production fresh and exciting.
The musical is something new for the cast and crew. Director Rolf Olson has never put on "Fiddler on the Roof" in his 35 years of directing,  which he said was "one of the great plays of American musical theatre." The current EPHS students have never put on this style or form of musical, after doing a 1920s comedy-musical, "The Boyfriend," and two contemporary shows, "Footloose" and "Curtains," these past three years.
Additionally, Olson said that this show "represents a great orchestra score for our band and orchestra folks. They will have strings, brass and keyboards, and they will be right on stage with the action." The pit orchestra is usually offstage in the pit, but this year, they will play onstage with the actors. Although this setup has been done before for the fall musical, this is something new for these high schoolers and pit orchestra director Liz Jackson.
While "Fiddler on the Roof" tells the story of Jewish family in the early 1900s, the themes in the musical are still relevant today. The musical deals with changing traditions, particularly Tevye's unwillingness to allow his daughters to marry for love. Changing traditions and beliefs are present in all cultures and families throughout all generations.
The musical is also applicable to current political situations. "This is a story of people surviving a time of great cultural change and injustice," said Olson. In the musical, Tevye's family and other families in their town face political pressure to leave their home in Russia.
Likewise, thousands of refugees, especially in the Middle East, are being forced to leave their homes every day due to forces outside their control. The characters in the musical and modern day refugees both rely on their mental and emotional strengths to get through such a dramatic change in their lives.
"I hope that this production can feature and really connect with the heart of this show that surviving times like that takes a great deal of strength, resilience, character and cultural tradition that gives people the stability and strength that it takes to undergo that kind of change and transcend it," said Olson.
"Our pit orchestra is great, we have a ton of talented actors, the lighting people are great, and the sound people are great," said junior Raymond Niu, a violinist in the orchestra. "We have a ton of talent in our school, and I think this production will show off all that." Whether audience members simply enjoy a fun musical put on by a talent-filled cast and crew or leave with a resonating message, "Fiddler on the Roof" will have something new for everyone.
DETAILS: 
Location: EPHS PAC
Dates:
Nov. 11 – 7:30 p.m.
Nov. 12 – 7:30 p.m.
Nov. 17 – 7:30 p.m.
Nov. 18 – 7:30 p.m.
Nov. 19 – 1:30 pm and 7:30 p.m.
Runtime: 2-2.5 hours
Tickets: $5 students, $7 adults
About the Contributor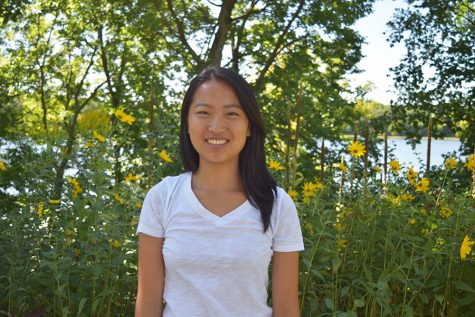 Kelly Pu, writer
My name is Kelly. I'm a senior at EPHS, and the Eyrie is a place for me to express my creative side as well as help keep my peers informed. When I'm...