"Escape at Dannemora" Review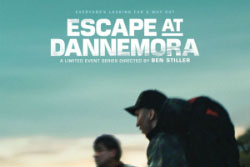 When I first heard about "Escape at Dannemora," a Ben Stiller-directed TV miniseries, I was mildly intrigued at best. I had no idea how invested and enthralled I would be throughout its seven hour runtime.
The miniseries tells the incredible true story of an upstate-New York prison escape of two inmates in 2015. Richard Matt and David Sweat, both serving life sentences, seduce the head of the prison sewing factory, Joyce Mitchell, into helping them break out. Benicio del Toro and Paul Dano portray the convicts while Patricia Arquette takes on the role of Mitchell.
At first glance this is your run-of-the-mill true crime saga, but the way it is brilliantly executed on a pure entertainment level as well as on a technical level was greatly satisfying to me. The cinematography in this show is now some of my favorite of all time.
The headlining escape doesn't take place until near the end of the series, which leaves Stiller plenty of time to flesh out despicable characters and give the audience a taste of modern prison life. Stiller smartly spends five episodes exploring the two prisoners' relationship with Joyce Mitchell and the planning of the break-out.
It is not until the sixth episode that we discover what led to the characters being incarcerated. Just as we are beginning to root for the main characters to succeed, we are shown their true colors and the harm they are capable of causing.The aforementioned sixth episode was one of my favorite episodes because of its character reveals and because of how Stiller experimented with film grains to paint multiple different time periods.
For anyone who agrees with the common sentiment that 2018 was a disappointing year for film, I would tell them to invest some time and devour this brilliant miniseries.
About the Contributor
Carter Aakhus, staff writer
I am a senior, and this is my second (non-consecutive) year of pecking keys for The Eyrie. I am a decent writer who wastes a lot of time watching movies,...